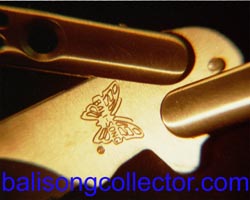 The Balisong Collector's Photo Album
Here are pictures of Clay and me at the Oregon Knife Collector's show in Eugene in 2000. We were attacked by this stuffed pig. The pig seems to be enjoying Clay's company.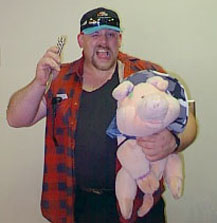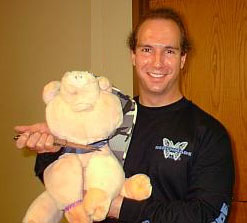 And here we's the Dynamic Duo at the Blade Show 2000 in Atlanta. This picture is courtesy of Kevin Pensigner at The Edge Equipment It's good that he labeled us since we're so easily confused.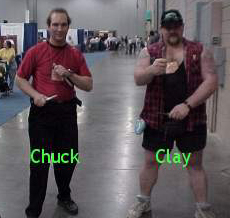 This is my new friend Kevin Gritsch at 2001 Oregon Knife Collector's show. Kevin saw Clay and me give balisong demonstrations at the 2000 show and decided he'd like to try that himself. So, he bought a cheapie at the show, Clay and I got him started. Today, Kevin's graduated to a pair of BM42s and some of the most advanced manipulations. Kevin is just amazing. I can't believe that he's only been at it for one year. As you can see in this picture, Kevin's specialty is double-knife manipulations.
His father, Greg Gritsch, who collects Benchmade knives, encourages Kevin's avocation. Kevin's mother says, "I always know where to find Kevin around the house. I just listen for the clicking sounds of those knives."
I was very glad that Kevin was able to join me and give demonstrations at the 2001 Oregon Show.


Click for a larger view