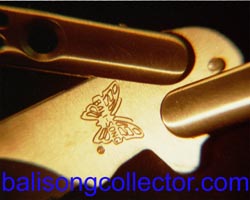 Benchmade Factory 2nd Bali-Songs
By Prof. Roland Phlip
From time to time, Benchmade has sold factory 2nd Bali-Songs. The "defects" in these knives are usually quite minor, often just a minor cosmetic flaw blemish on the handle. Many of these knives are perfectly functional.
Most recently, Benchmade sold about five hundered assorted 2nds when they discontinued the Bali-Song line.
One might see this as a opportunity to get a Benchmade Quality knife to play with at a reduced price. On the other hand, inasmuchas Benchmade's release of factory 2nds is significantly smaller than their production volume, the factory 2nds are rarer than the production knives. Rarer generally means more collectible. So, you might want to rethink your plans to actually use a 2nd.
All of Benchmade's factory 2nds are marked. Older ones had the tip of the blade clipped off and the number two stamped into the blade. Recent 2nds have been simply ink marked with "2nd". This ink marking can be removed without much effort. We here at The Institute for Advanced Balisong Studies have received reports of people bragging about how they bought some 2nds and removed the mark thus "increasing" their value. Since many of these 2nds are so close to production quality, it can be difficult to identify such kinves. In the short term, this may increase the value of those knives. But, in the long run, we expect the value of marked 2nds to exceed that of production quality firsts.
The idea that a 2nd may ultimately be worth more than a first may seem silly, but this is what happens over and over again in collectibles. First, those items least available (lowest released quantity) become the most sought-after and most valuable. Second, items with flaws in them (especially if produced by a maker famous for quality) often become even more valuable.
So, we see Benchmade Factory 2nd Bali-Songs as an excellent collecting opportunity.
Speaking of highly collectible, about 200 of those 500 recent 2nds where purchased by one dealer who had another shop ink mark the trademarked Harley-Davidson logo onto the blades. This was done without Benchmade's permission and, more signficantly, without Harley-Davidson's permission either. The ink marking is remarkably good quality. Here at The Institute for Advanced Balisong Studies, we do not study Harley-Davidson products or memorabilia. However, our research indicates that just about anything with the HD logo on it is very much in demand and very much collectible. (Black cotton tee shirt: $6. Same shirt with HD logo silk-screened onto it: $36.) Remember, unlike the tee-shirt, there are only about 200 of these knives. Our research also indicates that HD fans are often knife collectors too. So, these knives will be very much in demand by Benchmade collectors, balisong collectors, and HD collectors. We predict great potential for these balisongs as collectibles.