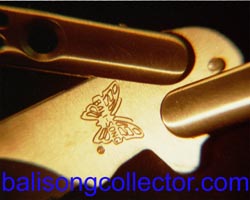 Tips From The Balisong Collector
Fixing Benchmade 42 Sheaths
Many folks who have purchased Benchmade's new Model 42 Bali-Song have found that while the knife is wonderful, the sheath included with it leaves something to be desired... like durability. I've come to think of the sheath as just fancy bubble-wrap to keep the knife from rattling around in the box during shipping.
One of my correspondents recently noted that when he actually tried to carry his 42 in the sheath, "the tang wears the sheath down so much that is starts to make a hole (threads were showing on the outside of the sheath) after less that a week from purchase." That's bad.
But, my friend has also come up with a bit of a solution, "I used Shoe Goo to glue a small piece of thin rubber to the area."
He even included this nice picture

"Shoe Goo" is a glue made for bonding rubber and leather and it is available just about any place where shoe care products are sold including may grocery stores.
So, there's a simple way to extend the useful life of your Benchmade sheath.
I have also found that the Benchmade 42 fits well in nylon sheaths made to hold pistol magazines (not the form-fitted leather ones, but the soft nylon or Cordura ones). Those made for 9mm or .40 caliber magazines seem to be about the right size. These are available with either vertical- or horizontal-carry belt loops at most gun shops and sporting goods stores.
On the other hand, my friend Gary Graley will make you a custom sheath from fine leather starting at about $50. The Edge Equipment has several Kydex sheaths for the BM42 starting at about $30. And Clay at Balisongxtreme is now offering an extensive line of Concealex sheaths for the BM 42 including some very innovative designs for as little as $15.
And, there's a lot more information about alternative sheaths for BM42s at