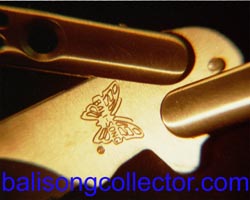 Custom Balisong #24
by
Terry Guinn

You may click on any picture in this exhibit
to see a high-res version. The high-res pictures
average about 500KBytes each.  Each high-
res picture opens in a new window, so you may
need to bypass or disable any pop-up blocking
software that you are running.

Terry Guinn of Seymour, Texas has been making knives since the early 1980s and selling them professionally since 1990. Mr. Guinn's father was a master machinist and he also has an extensive background as a professional machinist, so it's not surprising to see Terry make innovative, complex knives with precision and quality. Lately, he's been quite busy making some of today's best custom balisongs.
Here's is Custom Balisong #24: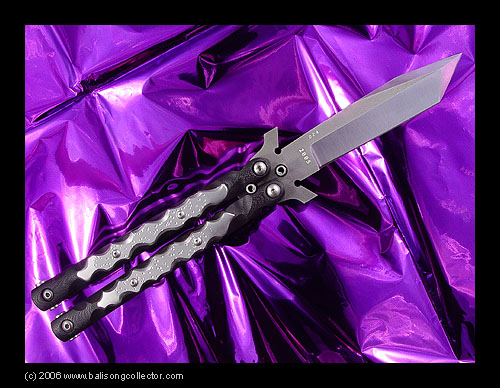 The brutish, modified tanto blade profile and the bold, neo-tribal themes make this is a decidedly masculine knife.
And it's a hefty knife too. In fact, the handles are just shy of one inch (about 25mm) thick. This is twice the thickness of a familiar Benchmade 42. Terry Guinn's #24 is over two-and-one-half times as thick as Spyderco's Spyderfly which is about 0.38 inches thick (9.7mm).
(Mr. Guinn, the master machinist, is doubtlessly cringing at the sight of a plastic caliper being used to measure one of HIS knives, but that's the way I do it. I'm sure he uses much better instruments in his shop.)
Weight: 11 ounces (312g) (for contrast, a Benchmade 42 is 4 1/4 ounces (120g)
length closed: 5.7 inches (14.5cm)
AKTI Blade Length: 4.3 inches (10.9cm)
Overall open: 9.5 inches (24.1cm)
stock: 3/16 inch (4.8mm)
This balisong uses sandwich-style construction. The handles are steel with carved G10 fiberglass and steel ornaments which are textured and hammered.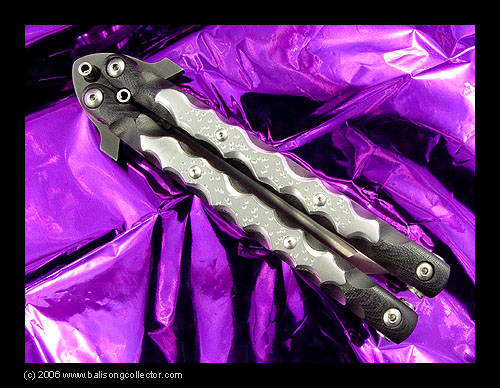 The ornaments on the handle echo the energetic neo-tribal design bead-blasted onto the front of the blade.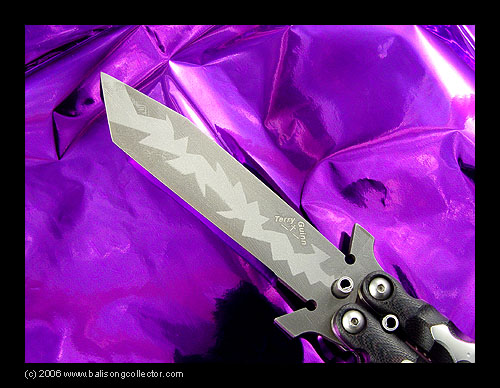 The blade is made of ATS-34 Stainless steel which is an excellent blade steel. It has a Chisel (also known as "Tanto") Grind which means that it is only ground on one side; the other side is left flat. This has the instant effect of making the knife sharper. It does mean that this knife will have a tendency to pull to one side over the course of a long cut making it perhaps less suitable for precision work. This is the traditional grind style for the Tanto profile which this blade uses.
The design is bead-blasted into the blade. The blade was first acid etched to give a bright silver and slightly frosted appearance. Next, the design was masked off. The unmasked areas were then bead-blasted to give the dull, gray appearance which makes the design stand out.
The modified tanto profile is a very difficult profile to grind because at one point four lines must meet perfectly while, at another point, three lines must meet perfectly. Mr. Guinn has demonstrated his mastery of the grinder near the tip of this blade is.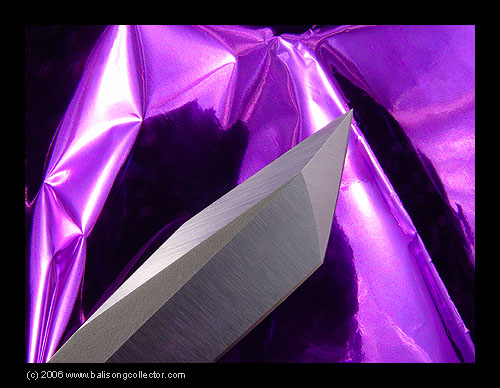 At first glance, this knife seems latchless. But, it actually features Terry Guinn's innovative magnetic latch. Powerful, rare-earth magnets are mounted in each handle. The magnets hold the handles open or closed. Of course, this is no where near a strong as a mechanical latch, but it is remarkably effective. It's especially good at keeping the knife closed in your pocket. When using the knife open, your hands will grip the two handles and hold them together.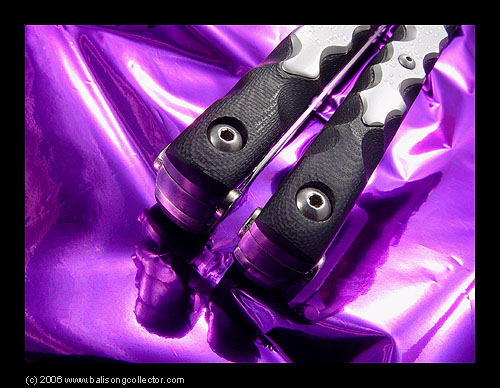 Because it has open, sandwich-style construction, this balisong uses a dual-tang-pin locking system. The tang pins are actually roll pins. My guess is that you'll have no problem with these pins coming out.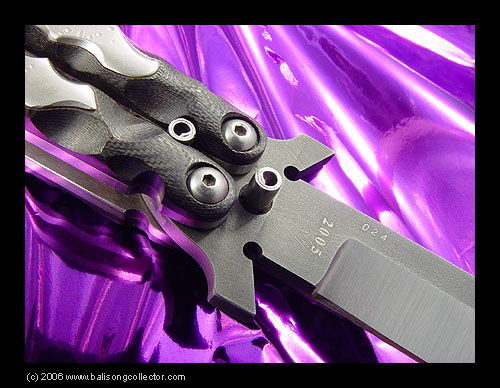 Click on the finger icon below to return to Gallery G and look at more fine Terry Guinn custom balisongs.