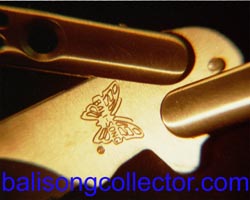 The Ring Fighter
by
Terry Guinn
You may click on any picture in this exhibit
to see a high-res version. The high-res pictures
average about 500KBytes each.  Each high-
res picture opens in a new window, so you may
need to bypass or disable any pop-up blocking
software that you are running.


The knife is doubtlessly among the first tools that man created; it's been around since time immemorial. So, it very rare indeed that a knife maker can claim to have done something totally creative, something totally new. Terry Guinn is one of the few knife makers who can legitimately make that claim. His Ring Fighter Balisong is totally new and totally creative. This is Terry Guinn's creation and he alone has claim to it.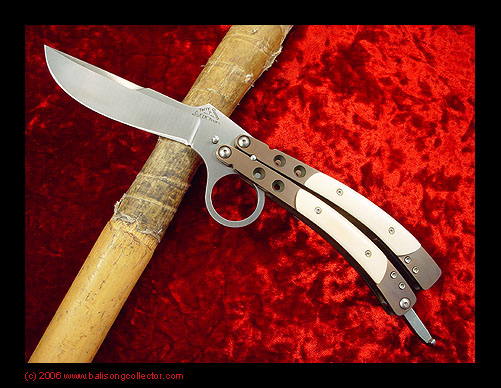 The Ring Fighter uses sandwich-style construction with then handles completely open to permit the exaggerated hilt which forms the ring to pass through. Notice, also, the spring in the latch which holds the latch out-of-the-way during manipulation.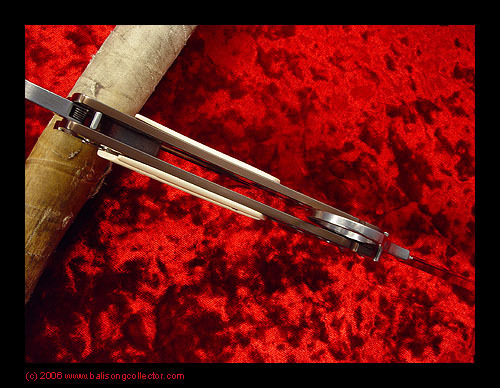 Because the handles are open, the ring feature is exposed both when the knife is open and when it is closed.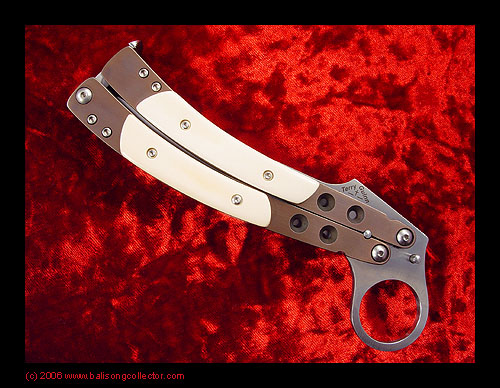 The spring-loaded latch can lock the knife either open or closed.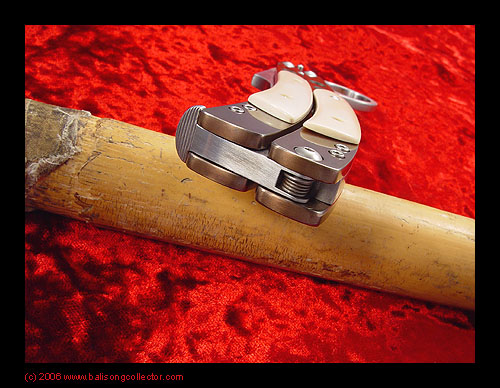 The deep-bellied blade with swedge makes this both an excellent fighting knife and also a very good utility knife. Notice the sharpening choil at the base of the blade which makes it easy to keep the blade sharp all the way to the ricasso.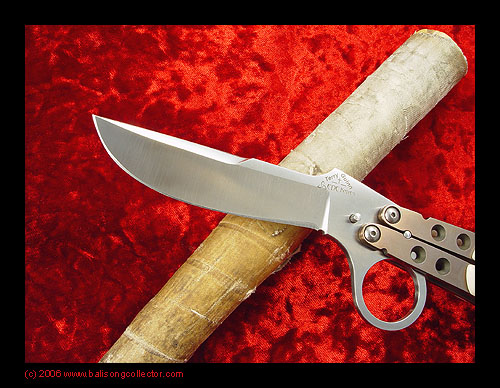 This extraordinary Ring Fighter is part of a group made for noted knife dealer EDC Knives. The front of the blade bears both Terry Guinn's own tang stamp with the Christian Cross in the middle and also EDC's logo. Notice the dual tang pin system and adjustable pivot pins.
Weight: 10.25 ounces (291g)
Length closed: 6.6 inches (16.8cm)
AKTI Blade Length: 4.6 inches (11.7cm)
Overall length open: 10.2 inches (25.9cm)
Blade stock: 3/16 inch (4.8mm)
Ring hole diameter 1" (2.54cm)
Inserts: Ivory
Blade: S30V
As I stated at the top of this page, the Ring Fighter is Terry Guinn's own unique design. I am very sorry to have to report than an unscrupulous Chinese manufacturer has been making cheap knock-off copies of it and certain despicable American retailers have been selling these terrible copies. This has ruined Mr. Guinn's chance of licensing this totally innovative design to the manufacturer of his choice which might have been a very lucrative deal for him and might have opened doors to even more licensing opportunities for him.
I'm absolutely certain that a maker as creative and talented as Terry Guinn is still destined for great things. But, it is a horrible shame, and a crime, that some of that opportunity has been stolen from him by feckless scoundrels.
Click on the finger icon below to return to Gallery G and look at more fine Terry Guinn custom balisongs.