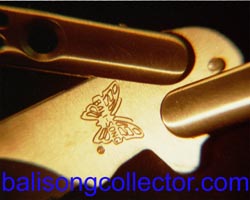 Basilisk
A New Line of Balisong Knives 
by
Jerry Hom

You may click on any image in this exhibit to see a higher-resolution version.
The high-res photos average about 400K. 
Each larger photo will open in a new window.
You may need to disable any pop-up blocking software you have.



Basilisk


is a new line of semi-custom balisong knives designed by 
Jerry Hom who also goes by the trade name Twirl Designs.

Jerry designed the knife, but his friends at Dalton Combat Cutlery
of Schererville, Indiana actually manufacture it.

Basilisk Balisongs are made in small batches with plenty of hand
attention.  So, while they're not a true custom knife,
they're really not a typical factory knife either.

Really what Basilisk is is an opportunity to own a knife of
excellent quality at a remarkably-affordable price.