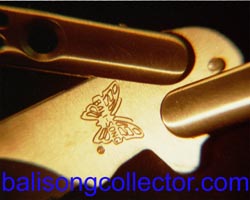 Darrel Ralph Balisongs

featured in

Knife And Life Magazine


Knife and Life magazine is a new knife, sporting, and outdoor life magazine published in Taiwan and aimed primarily at the Taiwan market. It's published by Outdoor Tech Ltd. of Taipei, Taiwan and the Editor in Chief is noted knife writer/editor Jonny Liao.


Click on the image for a higher-resolution version

High-res version opens in a new window

179K
At the recent Blade Show, I managed to obtain a copy of the recently-published Issue #3. Being published in Taiwan and aimed at a Taiwan audience, the text of Knife and Life is almost entirely in Chinese. Since I don't read Chinese, one might ask why I spent something like $10 for this thing.
First, I was just blown away by the artistic and production quality of the pictures in Knife and Life. If you're used to the major American knife hobby magazines, Blade, Tactical Knives, Knives Illustrated, etc., the pictures in Knife and Life will amaze you.
Unlike so many American knife magazines which have a color picture on the cover, but are entirely grainy black-and-whites inside, Knife and Life is full-color glossy from cover-to-cover.
Unlike so many American knife magazines which have two or three pictures per article, Knife and Life articles are crammed full of pictures... dozens of pictures per article.
Unlike many American knife magazines which have tiny pictures you can't make out any details in, Knife and Life has HUGE, high-resolution pictures that are a visual feast.
Unlike so many American knife magazines which have boring "knife mug shot" pictures of almost snap-shot quality, the pictures in Knife and Life are creative, beautiful and artistic.
Unlike so many American knife magazines where the few color pictures they have look washed out and the ink smears and rubs off on your hands, Knife and Life's pictures are vibrant and beautiful.
Knife and Life's pictures are almost like a color glossy print that you might get if you developed them from film yourself. The production quality of Knife and Life and its pictures is fantastic.
Even the ads in Knife and Life have significantly better pictures than the ads in American knife magazines... and many of them are from the same companies for the same knives!
Quite frankly, I would buy Knife and Life just to look at the pictures.
But, there was another attraction. Issue #3 of Knife and life features an article about Darrel Ralph and his balisong knives including Venturi. In fact, the centerfold picture (yes, there's a centerfold) is a wonderful picture of a Darrel Ralph Venturi.
My new e-mail friend, Mr. Johnny Liao, has kindly allowed me to republish that article for you here on my site. In fact, his staff provided significant technical assistance to get these pages with their Chinese characters prepared for the web.
To see the article, click on the image below. The article will open in a new window and it's 385K. (This is presented as an image file so that viewing it does not require special fonts.)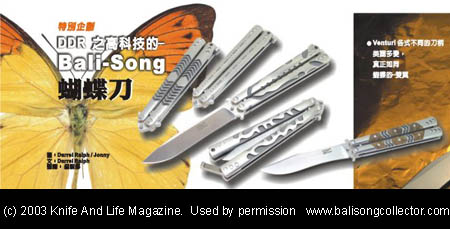 Unfortunately, I do not have an English translation. I would be very grateful to any of my readers who could prepare such a translation for me to publish here. If you can do so, please e-mail me.
Even if you don't speak Chinese, you'll want to look at the centerfold picture. To see it, just click on the image below. The centerfold picture will open in a new window and it's 263K.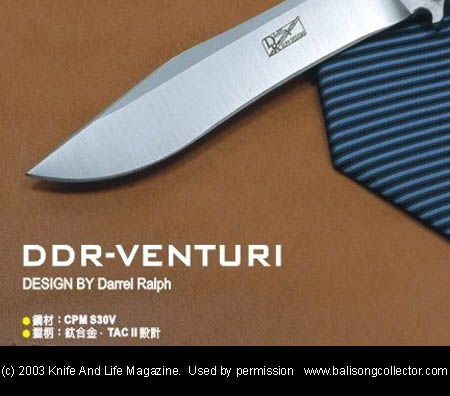 Since they are in Chinese, I have not read any of the articles. But, the articles in Knife and Life seem long to me. Most of them run for six to ten pages. Keep in mind that Chinese is, by its nature, a very compact language. Many of the characters represent an entire word, some an entire phrase or even an entire sentence. Obviously, there's a lot of information in a Knife and Life article.
For example, the same issue includes a review of the recent Shot Show (The Shooting, Hunting, and Outdoor Trades Show). With no less than 43 color pictures, I almost like I'd attended the show even without being able to read the six pages of text. None of the American knife magazines did such an extensive article on the Shot Show.
Of course, many of you are now wondering, "Where can I get a copy of Knife And Life?" Unfortunately, it is not distributed in the United States or much outside of Taiwan and the surrounding countries in general at this time. The best advice I can give you is to go to their website by clicking on the logo below and e-mail them and ask about how to obtain their magazine in your country.


opens in a new window





---





Here is a translation of some of the article into English


As a knife master, I have made many knives. Butterfly knife is a serial of knives that I am very proud of.
My first butterfly knife was created in 1987. It is so called Bali-Song. The unique shape and its sharpness deeply attracted me. Gemini Bail-Song is the first modern butterfly knife I ever produced. Thanks to Mr. Chuck Gollnick's encouragement. Because of him, I was able to create such a modern, artistic and fine masterpiece.
Per my observation, there are not many butterfly knives in the market. Every knife in my first group of bufferfly knives was given a serial number. This style used traditional design that is the handle was made of a whole piece of metal and CPM420 stainless knife body.
After the creation of Gemini Bali-Song, I had a desire of seeking for more fine designed with a more precise match and a well balanced of handle and the knife body. This desire drove me to cerate Venturi. Venturi is the best knife on the current market. Its handle is made of Sandwich style metal. This Sandwich style material enables me to balance the size of the handle and the knife body and allow me to position the insert of the knife body into the handle precisely. Venturi was original design was to have a square and heavy handle. Though it is a very precise design I was not very happy about it. Therefore, I changed the handle to be rounded at the end, which is very different from the traditional design but will prevent slipping.
The one of the most important characteristics of Venturi is its fine-looking and its well designed balance and holding feeling. Between the two, balance is even more important. I am the first knife master to apply Sandwich style in butterfly knife design. I also used soft mixing metal and stainless on Venturi. Because of these two materials, Venturi has the characteristics that blend art, technology and craftsmanship in one. To meet the collectors' desire of not being so slippery, I engrave some symbol on the handle. The symbol of the symbol does not only prevent the slippery but also increase its elegance.
Another masterpiece of mine is Dragon Song. It has a fire dragon symbol and hope it will bring my customers a lot of fun.