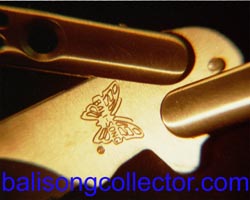 The Balisong Collector Inspects

A New Prototype from Korth






Korth? Who is Korth?
Korth is the trademark of two Brazilian knife makers, brothers actually, Ricardo and Roberto Lala. They've recently turned their attention to balisong knives. And they asked The Balisong Collector to evaluate their latest prototype.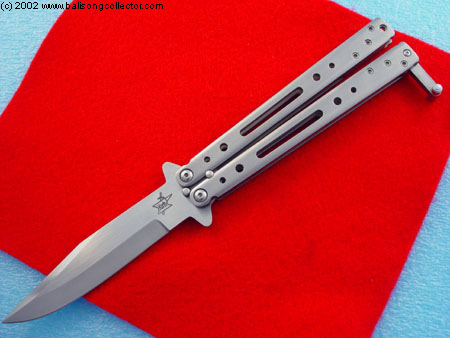 (you may click on the image above and most of the other 

images in this article to see a larger, higher-resolution

version.  The larger files average about 250K and each

will open in a new window.)
Korth's new balisong is impressive.
The blade is cleanly hand-ground out of S30V steel. The light-grey machined Titanium handles have an "orange peel" finish that gives just the right grip. The fit and finish of this balisong are just excellent. This isn't their first balisong prototype. They've learned a lot and clearly understand what I sometime refer to as "the balisong's complex simplicity."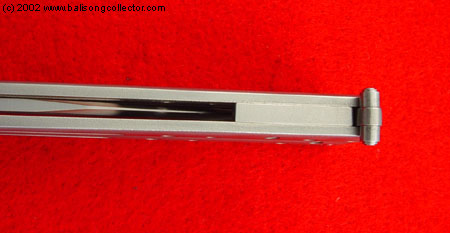 The handles are "sandwich style." Each handle is made of two slabs and a spacer held together with six screws. It's very similar to Microtech's Tachyon, though Microtech certainly didn't invent this style of construction either.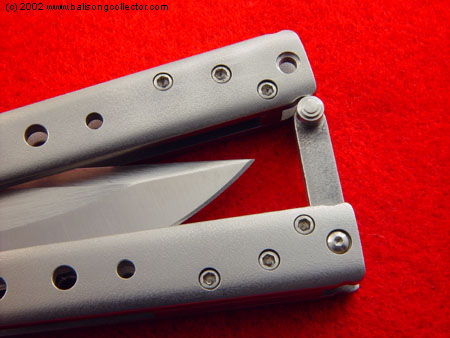 The latch is held with Chicago-style screws and can be moved to either handle or removed entirely. The handles incorporate a "latch gate" feature that keeps the latch from hitting the blade. Notice the nice machine-details on the latch and the indentations for the latch in the handles. The latch works smoothly and perfectly.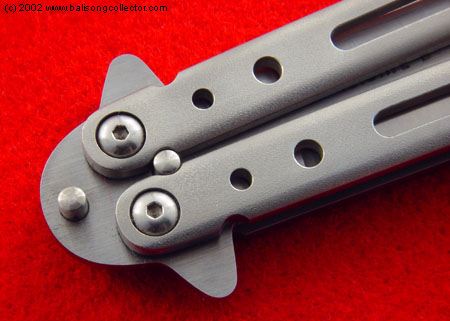 Like most sandwich-style balisongs, Korth prototype uses a dual-tang-pin system. Notice that the two pins are offset so that the pockets on both sides of the handles don't line up. This avoids creating a weak point in the handle right near the critical joints. The blade is held in place by Chicago-screw pivot pins which are adjustable with Allen wrenches.
Everything fits perfectly. The finish is great.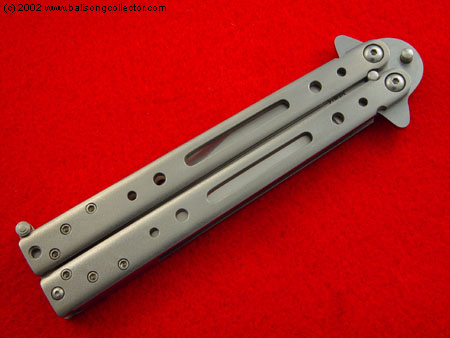 And look at that blade profile: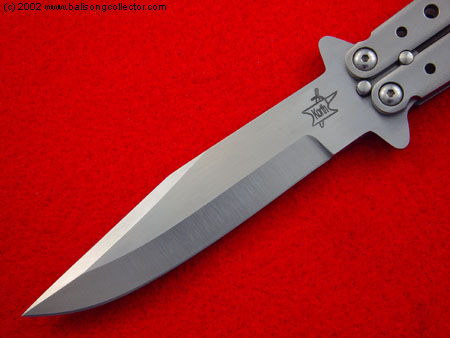 As clean and as exciting as it is, that blade profile is the one little problem in this prototype. It's just a little bit to wide. This is a common pit-fall in sandwich-style balisongs. Sandwich construction leaves the edges of the handles open. If the blade is to wide, the sharp edge may end up to close to the open slot and you can end up getting cut by a closed knife.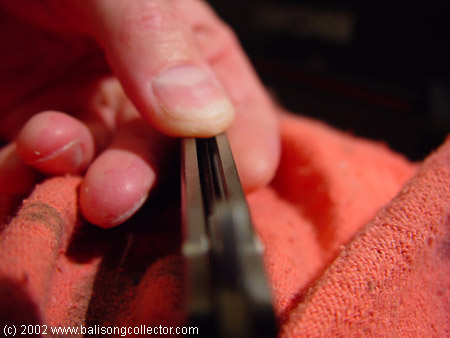 But, this is a prototype. Korth has assured me that the production knives will have slightly narrower blades to avoid this problem.
"So," you might say, "There's yet another new maker in town. Lately, it seems like every knife maker is trying his hand at balisongs. This Korth knife is nicely made and nicely designed, but they're all getting that way now. What does this knife have that sets it apart?"
Sit down, my friend, and CLICK HERE!