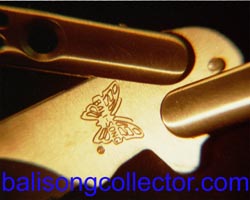 The Balisong Collector's Bookmarks
OTHER BALISONG-RELATED INFORMATIONAL SITES
OTHER COLLECTOR'S DISPLAY SITES
ESSENTIAL PRODUCTS FOR KNIFE COLLECTORS
CUSTOM MAKERS

The official website of The Batangas Blades.
The Batangas Blades are one of the 12 charter members of the Metropolitan Basketball Association (MBA) of the Philippines. The team is backed by the LBC Group of Companies. The Blades play their home games at the Sentrum De La Salle on the campus of De La Salle-Lipa in Lipa City, Batangas. Their mascot is Boy Balisong, described as, "the MBA's highest-flying, scene-stealing mascot! Armed and dangerous, he can easily release his myriad of aerial acrobatics as easily as he can handle his wide collection of fan knives." You've just gotta love a basketball team who's mascot carries a balisong.
---
This space is NOT for rent. I DO NOT receive any compensation for offering any of these links.
Please remember that the sites linked here are not mine and I can not be responsible for their content. If you notice any questionable content on any of these sites, please bring that to my attention.
In the case of business sites presented here, I am offering them because I have had good results with these businesses and their products and want to share my experience with you. If you have any problems with these businesses or their products, please contact me and I'll reconsider their inclusion on this page.
(Dealers: Please don't ask. The dealers presented here are those that I have had personal dealings with and recommend. Just because you're selling balisongs doesn't mean I'm gonna put your link on my page. On the other hand, I want to make clear that just because a dealer does not have a link on my page does not mean that I have had any bad experience with that dealer or any reason to distrust that dealer. There are many fine dealers out there. I, myself, prefer to work with just a few that I know personally.)
---
If you know of or maintain a site that is at all balisong related, let me know. If I think my readers would find it interesting, I'll add a link.