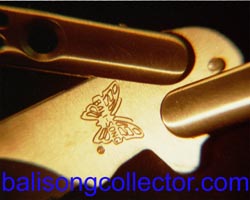 Something Completely New from Pabu
You may click on any of the pictures in this exhibit to see
a higher-resolution view. The high-res pictures average
about 450K. Each will open in a new window, so you may
need to disable any pop-up blocking software you use.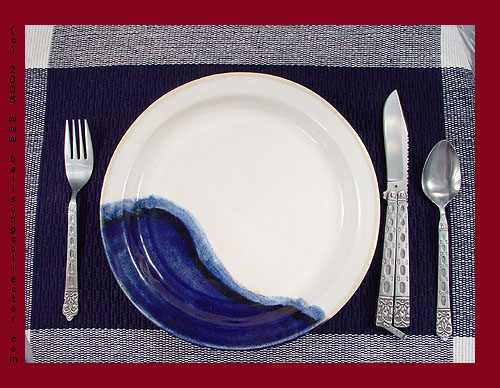 Dinner is served... Pabu Style.
Yes, it's a full place setting with the knife done balisong-style. Actually, it's a new idea from Pabu. The fork and spoon are made by the Lifetime Cutlery Company of Japan. The slabs for the sandwich-style handles on the knife were too. But the blade and the fitting of the knife are pure Pabu. In fact, this whole project started with a box of old silverware purchased at a flea market. Pabu cleaned up the forks and spoons and then cut the handles off the knifes and refitted them with new blades as balisongs.
Clever, eh?
The knife blade features a very practical sort of drop-point utility profile with nice filework on the spine and around the tang.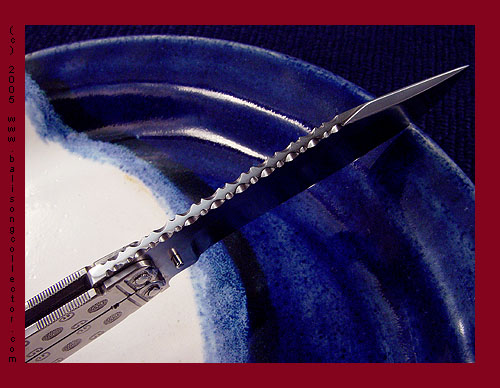 Notice, also, the slight hilt, just enough to keep a diner's hand from slipping forward and onto the sharp edge.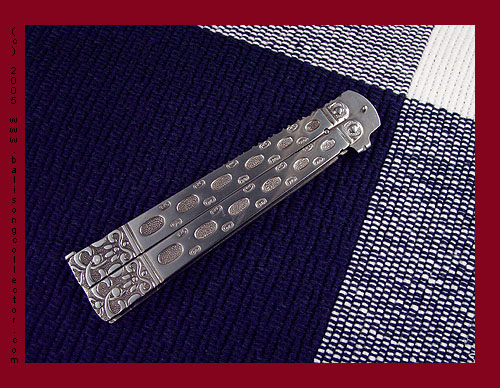 The knife's handles are sandwich-style construction. Notice to oblate-spheroid-shaped spacers and a bit of nice filework on the classic T-latch.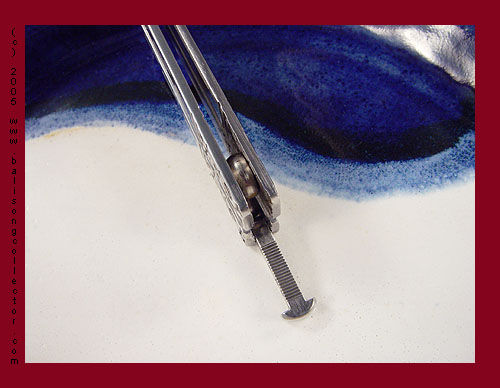 The handles feature the patterning from the original silverware, so the knife matches the fork and spoon making a very attractive place setting indeed.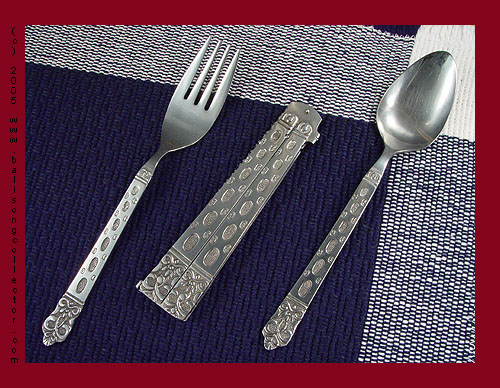 In fact, Pabu Lifetime is sold only as a complete place setting.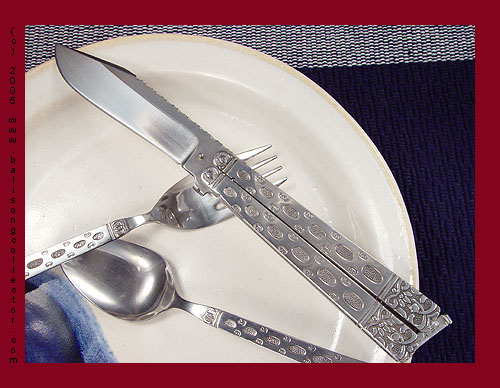 The only problem now is to convince your fiancee' to accept Pabu Lifetime as your wedding silver pattern. But, even if you can, production is very, very limited. Two place settings are available in the Pabu Sales Gallery right now. A few more place settings may eventually be made.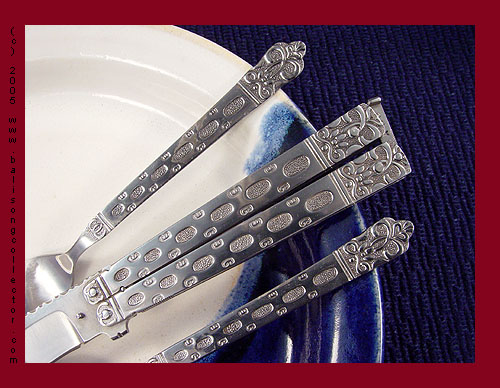 What would you like to do now?

Contact The Balisong Collector Himself

Return to The Balisong Collector's home page

See more cool Pabu Balisongs in Gallery D

Shop for Pabu Balisong that are for sale