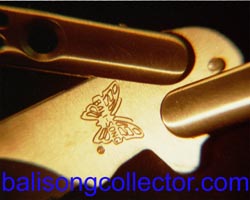 Guide To Common Benchmade Production Balisongs
I've received several requests for some sort of guide to recent production Benchmade Balisongs. It seems some people have one, but they're not sure which one it is. I've also seen some in the auctions that are mislabeled. So, I went to the bank and withdrew a few Balisongs (you can do that here in Oregon, you know) and put together a little display of recent production Balisongs from Benchmade.
This display is by no means comprehensive. Benchmade, Pacific Cutlery, and Bali-Song Cutlery have, over the years, produced and imported countless models. I don't own them all, I'm sure, and yet a full display of my collection would be way to large an image for you to see any detail. What I've provided here are the most recent, the most popular, and the ones I seem to see the most.
This picture is 517K. That's a big file, but I wanted to give you as detailed an image as possible so that you could clearly see the details on these knives.

Click here to see the picture.
| | | | | | | |
| --- | --- | --- | --- | --- | --- | --- |
| Model | Blade | Length | Finish | Pins | Holes | MSRP |
| 30 | Weehawk Plain Sandvik 12 C27 Stainless | 3" | Mirror | Plain | Plain | $79.95 |
| 30S | Weehawk Combo Sandvik 12 C27 Stainlesss | 3" | Mirror | Plain | Plain | $79.95 |
| 35 | Weehawk Plain Sandvik 12 C27 Stainless | 3" | Mirror | Hidden | Countersunk | $99.95 |
| 35S | Weehawk Combo Sandvik 12 C27 Stainless | 3" | Mirror | Hidden | Countersunk | $99.95 |
| 44 | Tanto Plain G-2 Stainless | 4" | Satin | Hidden | Countersunk | $109.95 |
| 44S | Tanto Combo G-2 Stainless | 4" | Satin | Hidden | Countersunk | $109.95 |
| 45 | Weehawk Plain Sandvik 12 C27 Stainless | 4" | Brushed | Hidden | Coutnersunk | $109.95 |
| 45S | Weehawk Combo Sandvik 12 C27 Stainless | 4" | Brushed | Hidden | Countersunk | $109.95 |
The handles on these knives are all made of 17-4PH Stainless Steel
Here's a picture of a BM 45 sitting on graph paper. I put it up since I'm talking to a fellow about sheaths and we wanted dimensions/