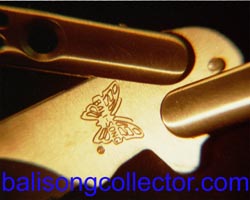 A couple of years ago, I had an opportunity to talk to a legend in the cutlery industry, a man recently named by Blade Magazine as one of the most influential people in the industry, the owner and CEO of one of the best-known companies in the industry, the founder, owner, and CEO of Spyderco Knives of Golden, Colorado, Mr. Sal Glesser.
I found out that Mr. Glesser is a huge balisong fan. He has been for many years. And he has an extensive collection.
In fact, Spyderco's original product was not a knife at all. Spyderco started out making knife sharpeners (they still do make excellent sharpeners). To add interest to his knife sharpening demonstrations, Mr. Glesser used to use, and artfully manipulate, a balisong knife.
So, I asked Mr. Glesser, "When is Spyderco going to make a balisong knife?"
I expected him to laugh and brush off my question.
Instead, he replied in seriousness, "I want to, but not unless we can do something innovative. Spyderco doesn't make me-too products."
Spyderco never has. Spyderco's original product, those sharpeners, were innovative. Spyderco introduced the pocket clip which is now de rigueur on "tactical" pocket knives and popular on many others including many balisongs. And, of course, Spyderco is best known for their one-handed opening system, the patented and trademarked SpyderHole.
Today, as one of the leading manufacturers of in the cutlery industry, Spyderco continues to introduce new models and new innovations to the industry.
It's been over two years in the making, but I'm pleased and privileged to announce that Spyderco's latest introduction is that promised Spyderco balisong,
the Spyderfly.

As Mr. Glesser promised, and as has been Spyderco's tradition, the Spyderfly is not a me-too product. It's a fresh and innovative interpretation of the balisong design.
Click on the Spyderco Logo to find out more.