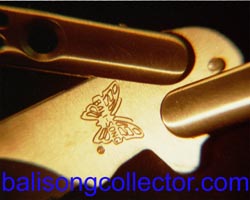 Typhoon Gallery
Typhoon is a balisong kit designed by Darrell Ralph and sold by Knifekits.com. The neat thing about Typhoon is that while there are some standard styles, the basic Typhoon kit can be customized in almost limitless ways. This gallery exhibits some of the unique ways that creative Typhoon owners have customized their kits.
If you've done something unusual with your Typhoon, please write me at tell me about it. Better yet, send me some pictures and I'll add 'em to the Gallery.
---
Exhibit #1)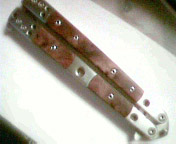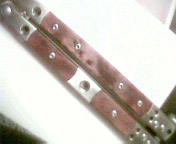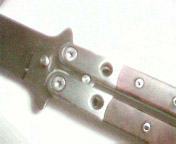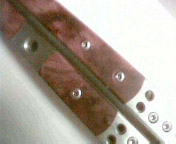 The author of this Typhoon writes, "My camera is mediocre so this is the best I can do. Amboyna wood insert and ground off the middle partition only on one side and to compensate for the balance the opposite side is one piece of each pair. I used screws as some forum members had said -- and I had same experience -- that their inserts popped off in spite of two-ton epoxy. The screws are counter-sunk. I also ground the upper blade guard as it was too sharp. The latch is pyramid shaped. This is my first typhoon!!! But, I have 2 left to go!"
I can't wait to see what he'll do with those other two kits... stay tuned...
---
Exhibit #2)
Wayne Suhrbier of Tuscaloosa, AL sent in this great example of what you an do with a Typhoon kit. On bladeforums.com, Wayne goes by the name "Insanity." Well, one might describe this Typhoon as "insanely nice."
Wayne writes, "I wanted to submit these photos of my newly completed Typhoon project to you for your gallery. The main part was the file work. I did reprofile the blade slightly and reshaped the lugs."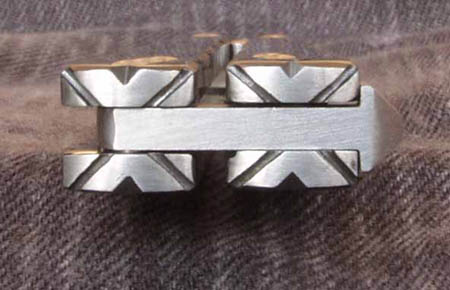 (you may click on the pictures of this Typhoon for higher-resolution versions)

Awesome filework. I suspect that Wayne has done this before.
---
Exhibit #3)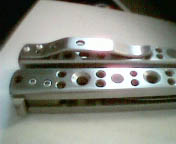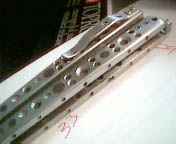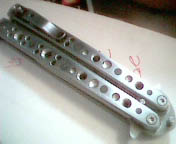 The author explains: "I thought you might want to see my next typhoon with a clip using the last two holes and with -longer 256 screws for the extra thickness of the clip. No extra threads to tap."
Yes, indeed, a very clever way to attach the clip. It looks like the skeleton holes are nicely drilled. And some extra detailing on the sides of the handle pieces too. Very nice.
---
Exhibit #4)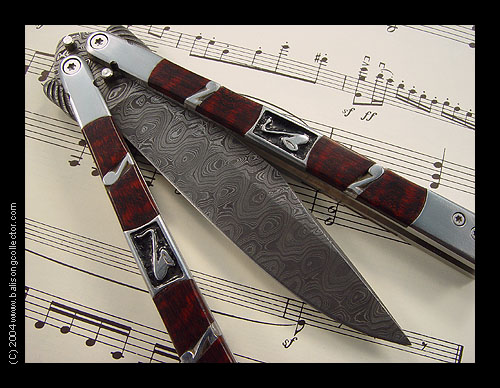 The Rock and Roll Balisong
A Typhoon by
Dennis Greenbaum
Click on the picture for more information
---
Exhibit #5)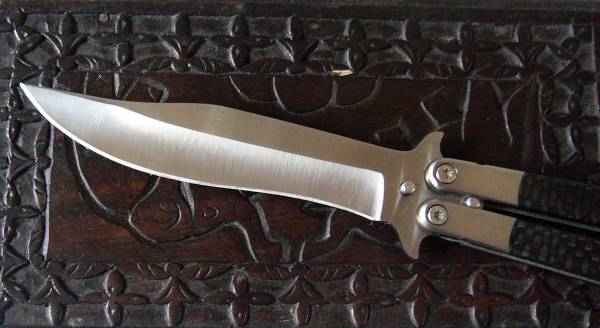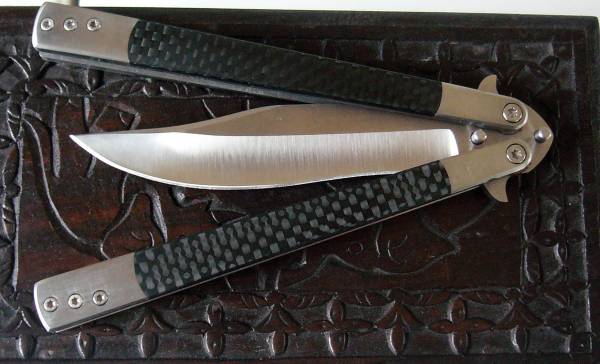 Carbon fiber is a great material and these carbon fiber inserts look great. The blade has been shortened and re-profiled to a flat clip
bowie. And the owner has also added a choil for ease of sharpening.

---
Exhibit #6)
Curupay Wood makes very pretty inserts. Notice the nice skeleton accents on the handles and the added sharpening choil.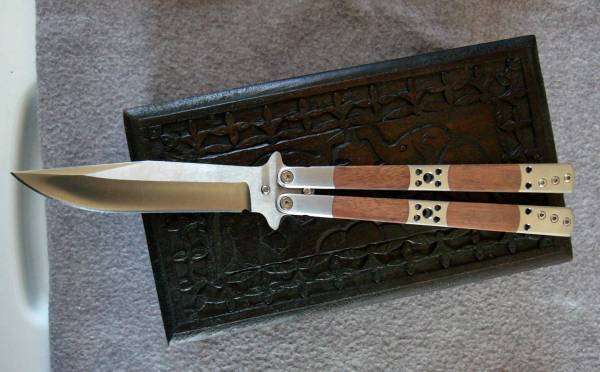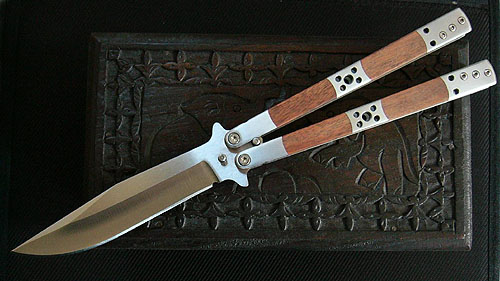 (Click on the image above to see a higher-resolution version. Opens in a new window.)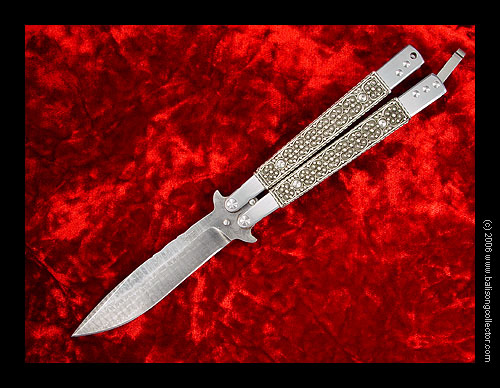 Yes, that started life as a Typhoon kit. Darrel Ralph himself, the designer of the Typhoon, replaced the standard stainless-steel blade with a hand-ground blade of Mike Norris Damascus steel and then world-famous knifemaker Zaza Revishvili added the silver filigree inserts. Click on the picture above to see a full exhibit.
---