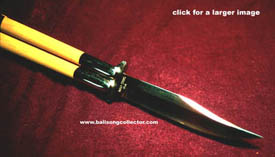 The Balisong Gallery


(Click on the pictures for larger views)
Here's a real treasure, a Bali-Song Cutlery 4" Bowie with white micarta inserts, NIB. That's right, NIB! The owner has the original invoice and even the warranty card.
A postcard from Les DeAsis indicates that this is the first Bali-Song with Stainless steel handles (brass was standard at the time).
The owner purchased this treasure in 1980 for 165.95. That's 89.95 for the basic knife, $35.00 more for stainless handles, $25.00 for bowie ground blade, $10.00 for the white macarta handles (white was the only choice that costs more), and $6.00 for the hand-made leather belt case.
Today, with all of the collateral materials, it's worth upwards of a thousand dollars! (Knives are not normally a great financialy investment. But, if the owner of this one had, back in '80, invested his $166 at 8%, he'd have about $835 today, so this knife has actually been a pretty good investment.)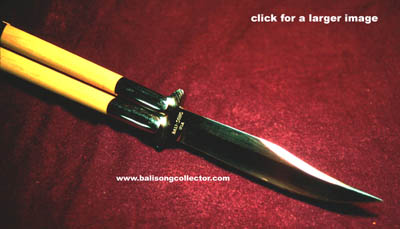 It is normal for white micarta of this age to be a bit yellowed.
Notice the very classic bowie blade profile.

Fortunately, the owner, who is the original purchaser of this knife, also purchased the leather sheath, a six dollar option that is today worth upwards of two hundred alone.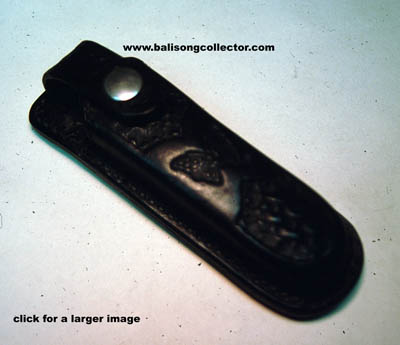 Oh, here's one more treasure. This friend has the original advertisement that he purchased this knife from! This ad ran in Soldier of Fortune magazine in 1981.
Yes, a true piece of balisong history!
 Click to continue your tour