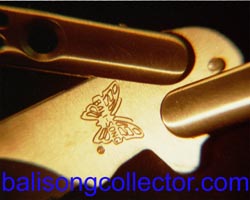 Rock and Roll
A Typhoon 
by
Dennis Greenbaum

You may click on any image in this exhibit to see a higher-resolution version.
The high-res photos average about 400K. 
Each larger photo will open in a new window.
You may need to disable any pop-up blocking software you have.


This jumble of parts is a Typhoon Balisong Kit from my friends at
Knifekits.com.  

It was originally designed by my friend, noted knifemaker Darrel Ralph.

The idea here is that the basic rudiments of a knife are already done.
Particularly, the blade is already cut out, profiled, ground, heat-treated,
and sharpened.  And the critical holes are already measured and drilled.
Following the simple instructions included, just about anyone can
assemble a basic Typhoon Balisong.  All you'll need is #6 and #8 Torx 
screwdrivers and maybe an 1/8" round file for the tang pin pockets
which sometimes require just a little bit of adjustment for a perfect fit.

A basic Typhoon, which can be assembled  in about 15 minutes,
is a darn nice balisong.  The materials are all top-quality and the
design is excellent.  However, a basic Typhoon is rather plain.

The Balisong Collector's Typhoon Gallery has pictures and
stories from a number of enthusiasts who've customized their 
Typhoons in unique ways. 

There's a special name for adding decorative enhancements
and style-elements to a knife.  This work is called "embellishment."
Many knifemakers become proficient at various forms of embellishment, 
in the form of "filework", carving, texturing, etching, engraving, inlays,
the list goes on and on. There are even some artists who do nothing
 but embellishment choosing to apply their talents to existing knives
 -- whether one-of-a-kind customs, mass-produced  factory knives,
 or something in between such as a kit. Coupling expertise and skill 
with creative vision, decorative art, and stylish enhancement, their 
techniques can be used in a such a way to make an otherwise plain
 knife, like a basic Typhoon, suddenly "light up!"

In the past couple of years, one person who has become especially well-
known for his artistic skills is Dennis Greenbaum of Baltimore, Maryland.  
He's known online in the various knife-related forums as "Osprey Guy".

Dennis likes to tell the story of how he first got attracted to knifemaking.  
He had purchased an attractive folder called the "Osprey", designed 
by Darrel Ralph for Delta Z (sadly, now out of business).  Dennis then 
learned about Darrel's new line of high-end "kit knives" from knifekits.com  
Dennis orderd a kit and the rest is, as they say, history.  Within months, 
Dennis Greenbaum was already establishing quite a reputation 
for his modified and heavily embellished kit knives.

Last fall, at Darrel Ralph's request, Mr. Greenbaum agreed to try his 
hand on a Typhoon Balisong.  Dennis began with the same "jumble of 
parts"  shown above.  If you'd like to see what an expert can do with 
those parts, click on the finger icon below.